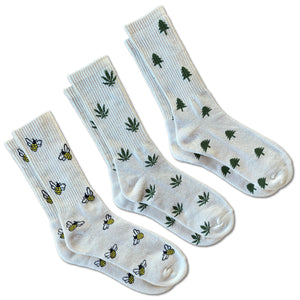 Bad quality
I threw one pair of socks after washing them 2x there is holes after wearing them a couple times really bad quality for the price paid 80$ lost
My favorite Socks
I've been getting socks from Kind Hemp Co for the past few years, they are hands down my favorite socks I own and these are no exception. Whether I'm wearing them casually, mountain biking, hiking, or skiing they keep my feet feeling good. Keep up the great work!
Hemp socks!
I love my new socks! I have received a lot of complements and everyone thinks they are even cooler when they find out they are made out of hemp super satisfied and would definitely recommend to anyone!
Best socks in all the land
At this point, I only wear Kind Hemp Co socks. I never thought I would stan so hard for socks but here I am.
Best socks ever!
I absolutely love these socks! They are comfortable, well constructed and made of all natural materials. I bought them at a street fair for myself and the mean's M-L for my son. He was so happy with them that he begged me to buy him more and I did!